History
Benalla Golf Club "a better club by par!" "golfing since 1903"
Course Designers: W. Crowther. New course architect: Sam Berriman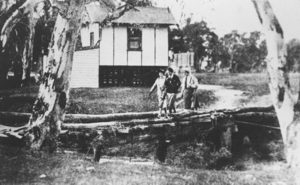 The Benalla Golf Club was formed June 19, 1903 with 12 members and was a 9 hole course located within the town of Benalla. The Course was available in winter only and used for sheep grazing during summer. Over stocking was required prior to golf season to reduce the grass.
After moving to a number of sites, including Caseys Island, within the Broken River, the current site was chosen. This property of 132 acres was purchased in 1945. Then, like now, volunteers were our most valuable asset. Many voluntary hours of clearing, ploughing, planting, building and other tasks were required to get the course ready for the official opening in 1949. Grass greens replaced the sand scrapes in 1961 and a forward thinking committee installed a pipeline to the Broken River.
Subsequent installation of a watering system and the planting of Santa Anna fairways now provides members and guests with a picturesque and manicured 18 hole course.
The present clubhouse was opened in 1990.
The Club celebrated their centenary in 2003 and a time capsule was buried on the 10th tee for opening at a future time. The publication -" A Centenary History 1903-2003" is available from the clubhouse.
During 2021, all bunkers were reconstructed to upgrade drainage lines, installation of clean washed sand and reshaping of the banks of the bunkers to stop erosion and assist with stablilising of the banks. All works were undertaken by a volunteer working group. Funds for the works were raised through external fundraising works by the volunteeer group along with some donations.
The latter part of 2021 saw the construction of a new driving range facility which allows golfers to practise many shots without the need to collect their golf balls wherever they went!
"Quotable Quotes"
from 1927 "…there is no reason why Benalla cannot become the mecca of golf in the north-east of Victoria."
"yes, I helped build that course in my day and now I can look back and see the fruits of all the hard work helped to make it a better place for all to see."
from 1956: "Peter Thompson defeated Ossis Pickworth 3/1 in an exhibition match (at the course). The town declared a public holiday for the event."
from anytime: "you only need one good shot to bring you back next week"