Golf Shop
Owned and Operated by Wayne and Lynda Hocking.
Let Wayne and his friendly staff assist you with all your golfing needs, at competitive prices.
Our well stocked Golf Shop carries a wide range of golf equipment and apparel, including Titleist, Srixon, Eagles & Birdies and Footjoy Shoes.
Prompt grip fitting and club repair services available.
Equipment that can be hired or purchased includes:
Push Buggies
Golf Clubs
Motorised Karts (bookings advisable)
Range Tokens for use on the Practice Fairway.
We also stock a range of snacks and drinks for you to enjoy out on the course.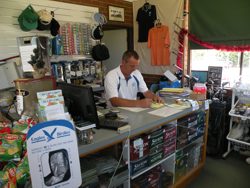 Opening Hours:
Winter: 9am - 5pm - 7 days a week
Summer: 8am - 6pm - 7 days a week
Hours extended during peak times.
For all golf enquiries and bookings call us on (03) 5762-2404
or email This email address is being protected from spambots. You need JavaScript enabled to view it.